Activities
Among the activities concerning Flood Defences, were experiments with water overflow, wave overtopping and wave impact. Also a T0 baseline survey to determine the state of the levee has been done. These experiments resulted in several reports, which can be found below.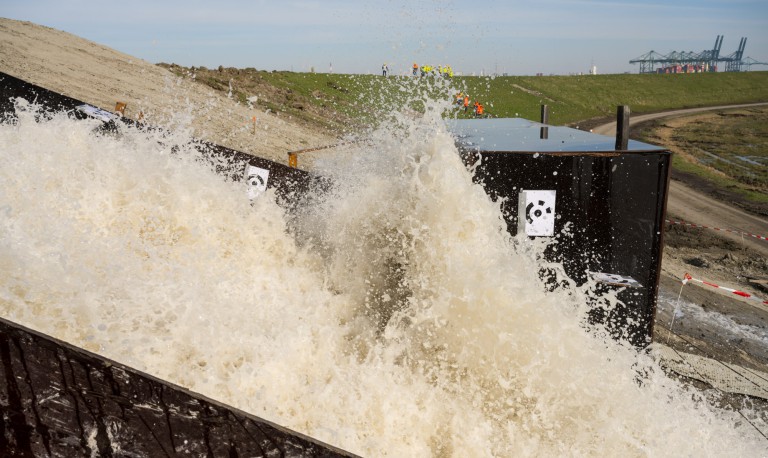 Site Survey Overview
What: Report on baseline site survey and all consecutive surveys of the experiment site.
Pilot testing water overflow
What: Several reports on pilot testing of water overflow on Belgian and Dutch levees. 
Tidal Marsh
What: A report on the influence of tidal marsh on levee strength
Validated models
What: Reports on validated models on overflow and overtopping modelling. 
Blind Model Predictions
What: Report on blind predictions of water depth and flow velocity on the slope of a levee during an overflow event, before the test is conducted, using a range of different state-of-the-art numerical models. 
Wave overtopping and Wave impact
What: Reports on Wave overtopping tests, Grass Sod Pulling Tests and the Wave Impact tests. (Reports are in Dutch)
Using BIM as a Levee Manager
What: a framework for BIM Use in Levee Management
Animal Burrowing in Levees
What: Reports on animal burrowing in levees - Field research on burrowing and how to manage animal activities in levees. 
Grass Sod Pull Test
What: explainer video about the Grass Pulling Device to test the strength of the grass cover of a levee. 
Prolonged Collaboration
What: Action plan on international prolonged collaboration on assessing designing and maintaining flood defences.
Action Plan on international prolonged collaboration - to be published soon
Monitoring
What: Report on design and application overflow generator.
Design and application of the overflow generator - to be published soon
Validated innovative solutions
What: Report on innovative solutions, tools and services in Flood Defence.
Overview of validated innovative solutions, tools and services - to be published soon