Destructive Field Tests
How strong are our current flood defences? What is the impact of environmental elements such as the weather, the presence of vegetation or man made objects on our flood defences? And how can we solve any weakening factors?
Status and strength testing
Numerous destructive field tests are carried out to learn more about the status and strength of our flood defences and the impact of environmental elements.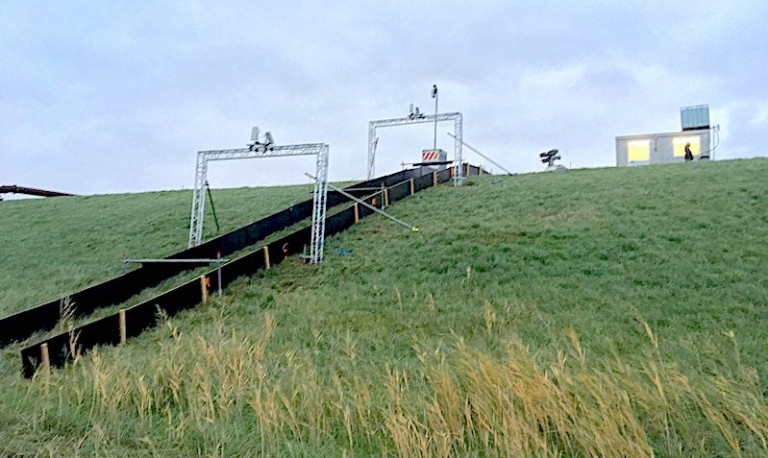 Destructive field testing of levee
During destructive field tests a levee is exposed to increasing loading conditions, imitating an extreme storm event by the use of pump-driven simulators, generators as well as prevailing tidal conditions until failure occurs.
Test types
The following test types are considered:
Wave overtopping
Steady/continuous overflow (with significant flows of water)
Wave impact
Breach growth
Research questions
The research questions considered can be categorized as follows:
Failure enhancing phenomena
Maintenance-related
Presence of transitions
Presence of man-made objects (stairs, poles, solar panels, art)
Presence of trees
Animal activity
Extreme drought
Impact of falling objects (windmill parts, aircraft)
Excavations
Failure retarding solutions
Maintenance
Nature-based design and maintenance of levees
Herb rich vegetation
Foreshore development in front of a levee
Lime treated clay
Teximat®
Riprap
Open Stone Asphalt
Concrete blocks
 Geogrid
 Temporary cover reinforcement strategies
 Erosion resistant earthfill core (like inside the Prosper levee)
Breach growth
In depth
In width
Breach retarding solutions
Influence of tidal marshes
Bresdefender®
other breach control solutions
Repairs
Only provisional solutions to be considered here
Challenge on repair strategies
Large emergency response exercise
Overflow tests have started
The Overflow Generator has been installed at the project site. It was quite an operation, see the making of video by Flanders Hydraulics Research.
Polder2C's: Moving of the Overflow Generator to Hedwige-Prosperpolder