Survey Techniques
We needed to assess the levee condition to evaluate impact of the tests in relation to the parameters that characterise the several levees, as there are differences in structure, slope, vegetation, etc. We did this by collecting several datasets by survey.
Survey categories
We have used several monitoring and survey techniques to assess the levee condition, such as Topography & Surface Mapping, Sedimentological and geotechnical soil properties, Geophysical properties, Hydraulic and hydrologic properties and finally Biological properties.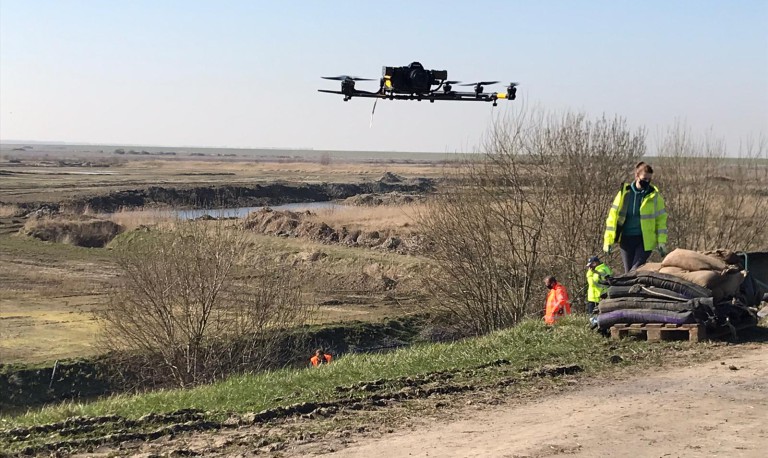 BIM and 3D visualisation
This tool is the report BIM adoption in an Open Environment: a Framework for BIM use in Levee Management.
In this report you will find more information on: 
Experiences with applying BIM to a levee
Experiences with 3D-visualisation of a levee
Comparison of geotechnical and geophysical techniques
What: report GEO 18/111: Report on the Geotechnical Laboratory Testing
In this report you will find a comparison of different geotechnical and geophysical techniques. Among them are ERT, GPR / Drilling/CPT measurements that have been carried out in the Living Lab Hedwige-Prosperpolder in 2019 and 2020. 
Using Ground Penetrating Radar (GPR)
What: report The Ground Penetrating Radar for inspecting levee upper layer in Polder2C's.
In this report you will find more information on using GPR for
scanning the levee conditions, mainly the upper layer of the levee
check the GPR inspection limit in laboratory conditions
Lab Assignment into Levee Construction
What: This lab assignment involves conducting physical and numerical experiments to gain insight into the properties and construction of levees. The assignment includes determining the properties of sand and gravel, building and testing a levee cross-section and simulating the seepage discharge of the built levee section using software. The objectives are to understand the construction and material use of levees, determine the flow profile and seepage discharge of a levee, and evaluate and discuss the results.