State of Play: Learning from Partners
We were asked to provide insight in the international cooperation of emergency response. We have therefore developed a study called State of Play, applying a maturity analysis to distinguish what knowledge could be developed or shared between project partners.
Assess own performance
The overall aim of State of Play is to determine where and how emergency response can improve. A maturity analysis enabled the project partners to assess their own performance.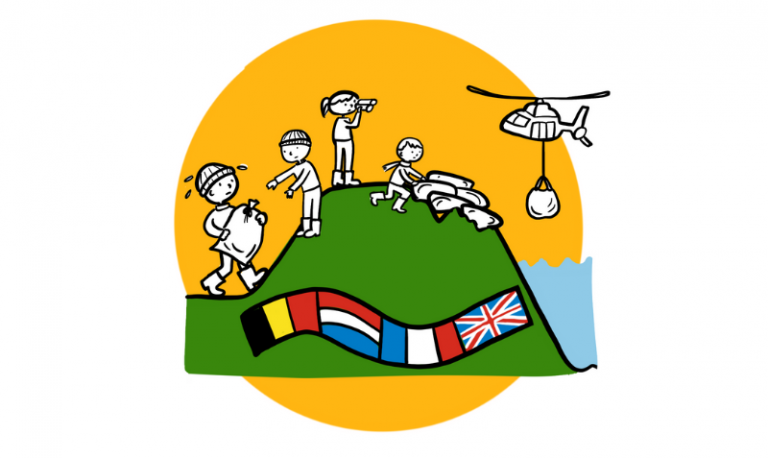 Maturity model analysis
Maturity models can be used to assess capability levels, offering the partners a method to assist them in improving their performance and maturity. We distinguish five maturity levels, from ad hoc to optimised. By determining current capabilities and performance, while simultaneously identifying areas of weaknesses, potential learning objectives can be indicated. 
Initial State of Play
A maturity analysis enabled the project partners to assess their own performance from 1, meaning ad hoc, to 5, meaning optimised, on various indicators: adaptability of new technologies/procedures, knowledge exchange, data information management, accessibility of skills and tools, crisis and risk communication, crisis and risk emergency resources, (inter)national collaboration, and resilience. The initial State of Play started off with a survey, followed by individual meetings to further discuss maturity levels and potential learning objectives. The results of the initial State of Play are shown below.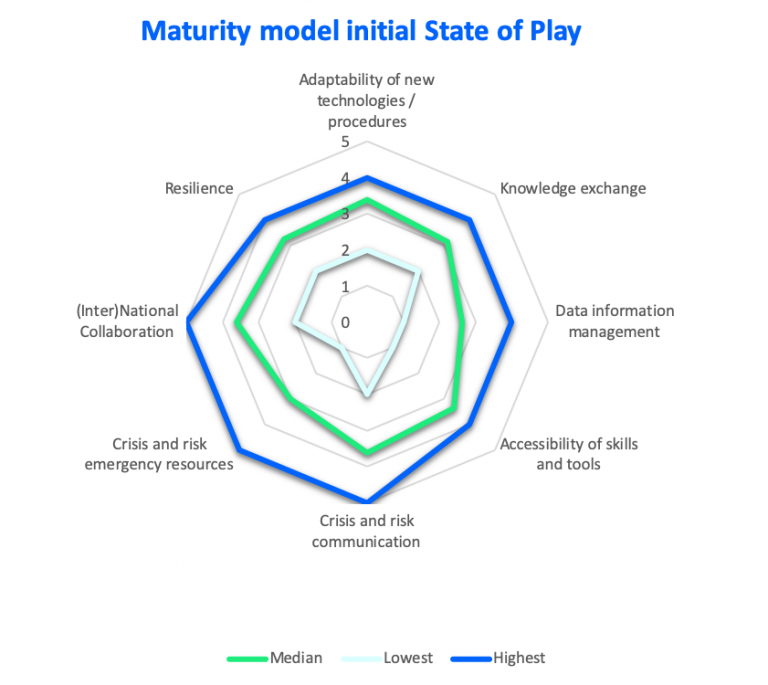 The individual meetings were organised as practical examples and discussions were considered to be key for realistic estimations of maturity levels and interpretation of the results. Focus of these meetings was hence on understanding:
what partners can learn from each other - different maturity scores 
on which fields to collaborate - all partners have a lower score 
on which topics it is not needed to focus on anymore - everybody scores well managed
​​Next, we will formulate joint learning objectives. A plenary workshop with all participating partners will be held to communicate and discuss these joint learning objectives. At the end of the Polder2C's project, the partners will be asked to assess their maturity again. The learning objectives in combination with the maturity models can then be used for evaluation to elucidate on the contribution of State of Play to the performance of the partners.
Report on lessons learned
Keeping the joint learning objectives in mind, we will look ahead to what future work and potential collaboration could consist of. What lessons can be learned from Polder2C's and what do the partners want to keep working on after finalisation of the project? It may also be possible that State of Play will result in prolonged collaboration between partners. The findings will be included in a report which hopefully stimulates partners to keep developing and sharing knowledge.
Updates
Updates
First results maturity analysis initial State of Play.
Start individual follow-up meetings State of Play.