Tests at the Living Lab: what can we expect?
04 November 2020
Francien Horrevorts
Our Living Lab is a true asset to the project, meant for us to conduct experiments and research under real life conditions. All to gain more insight and improve our flood defences and emergency responses.
André Koelewijn, from STOWA (Foundation of Applied Sciences), is responsible for the general planning of all the tests and research activities at our Living Lab. Let's catch up with him and find out what we can expect to see happening in the remainder of 2020 and start of 2021.
Covid impact
As Covid-19 has had an impact on all the live activities, the planning of the research tests has also been changed. "Some activities have been delayed or changed. As many activities are interdependent, it is important to start with the ones that are absolutely necessary for the project to proceed. So I always start planning the most complex components." explains André.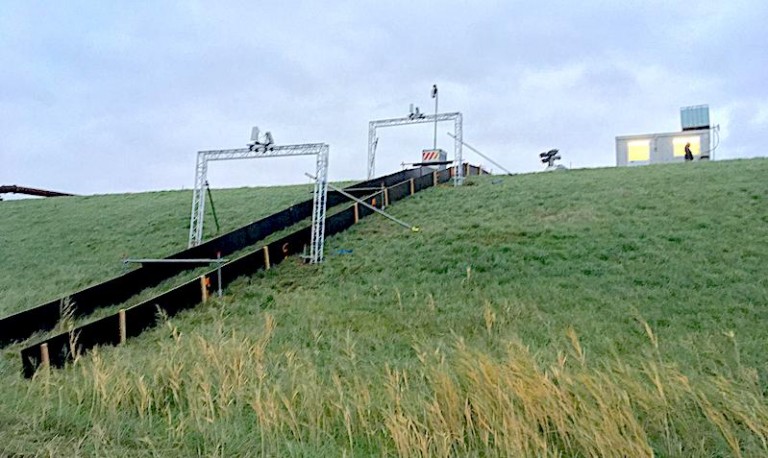 Plans for 2020 and 2021
In the final months of 2020 the focus lies on overflow tests. These tests will be done during the whole month of November. André sets out what else we can expect: "The wave overtopping tests that were originally planned in November, have been delayed. We are now planning to do them from March 2021 onward. A lot will happen in the first part of 2021. We are hoping to do a breach initiation test, then breach closure strategies and students will try to repair the levee during the Levee Challenge. Subsequently, overflow and wave overtopping tests will be done, so we can test the repairing techniques."
Teamwork
Although there were some setbacks, the planning is still on the right track. "Thankfully", André says, "the activities have only been delayed a bit and we are still able to catch up in the future. The great advantage of the polder is that it is outside and a big open space. So we can still work in the polder, albeit with less people at the same time. And everyone is supportive of the necessary changes, it really is a great team effort and I am glad to contribute to this project."
What's the latest?
So, what is the latest activity in the field? To give you a short glimpse of the current overflow tests and how they have been set up, check this making of the overflow generator video by the Flanders Hydraulics Research.
Polder2C's: Moving of the Overflow Generator to Hedwige-Prosperpolder
Want to see what other tests we are planning to perform? Check the Destructive Field Tests.