Breach Closure Strategies
Breach Closure Strategies
If a levee breaches, accidentally or deliberately, it has to be closed as fast as possible. We want to explore different breach closure strategies under different circumstances, such as wide or small breach, high or low water velocity, accessible from land, water or air. We seek for proven and innovative solutions such as a BreachDefender and mobile barriers.
The BreachDefender
The BreachDefender is a multifunctional military pontoon folding bridge being developed and tested by the Dutch Ministry of Defense. It can be used to stop or postpone the initial breaching process of a levee.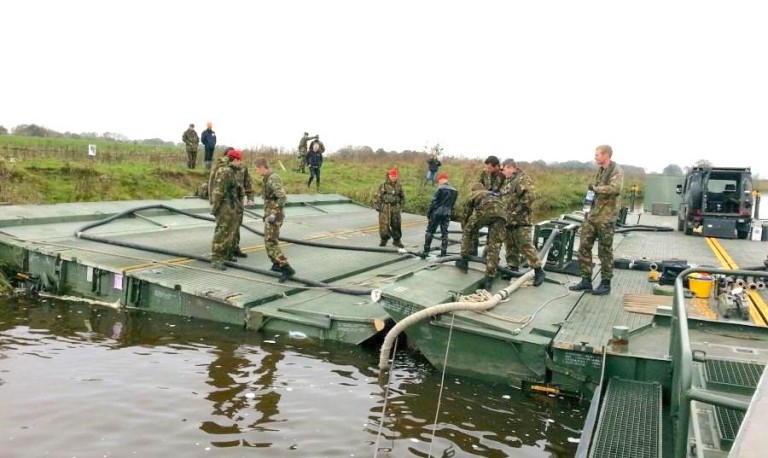 Stories turning into research 
The idea for the BreachDefender is inspired by the story of a boatman who sailed his small barge "De Gebroeders" in a breach of a levee near the Hollandse IJssel in 1953, thereby preventing a disaster from happening. The current concept of the BreachDefender uses a floating pontoon which is normally used by the military to construct temporary floating bridges. When filling the pontoon with water instead of air, this can be applied in a reinforced condition against a weakened levee body to prevent or delay a levee breach.

The advantage of using pontoons is the possibility to transport over water and hence, the option of putting the BreachDefender in its place completely from the water. Preliminary research using a prototype of the BreachDefender has shown a positive effect on the breach formation process. We therefore expect that the BreachDefender is able to locally increase the dike height in case of a local reduced crest height and to block overflowing water.
Four main goals 
Our aim is to apply the BreachDefender on a weakened levee for two scenarios: where the water level is equal to the crest height of the levee and where first indications of levee instability have already been spotted. 
We have subdivided the exercises for the breach closure strategy into four main goals:
Launch and install BreachDefender
BreachDefender against local crest lowering
BreachDefender against a breach
Breach closure challenge
The four goals differ in difficulty level from the launch and installment of the BreachDefender having a normal difficulty level to using the BreachDefender against a breach and the breach closure challenge being very difficult. Each step entails extensive monitoring on the effectiveness. We hope to find out to what extent (protective or merely delaying) the BreachDefender can be used as an emergency response measure when dealing with breach formations or initiations in levees.