Winter School brings high quality results
05 April 2021
Francien Horrevorts
Knowledge Infrastructure
The first Polder2C's Winter School, themed Fieldwork for Flood Resilience, has come to an end. With some adjustments due to Covid-19, we were still able to organise it and welcome fifteen enthusiastic MSc and PhD students virtually and in the Hedwige-Prosperpolder.
The Winter School
The Winter School is a unique event for students in fields related to Flood Protection. The event's goal is to help develop a solid knowledge infrastructure in the field of climate change adaptation. It provides a podium for exchange, transfer and development of ideas and knowledge.
Online and offline programme
The original idea of a five-day, full-time programme near the Living Lab Hedwige-Prosperpolder, changed quickly because of the increasing travel restrictions. The length was changed into five weeks and the programme became more online oriented with a small number of field trips for the students that were able to travel to the polder. Vana Tsimopoulou, Research Project leader Building with Nature Group at HZ University of Applied Sciences, organised the Winter School and had to change strategy and adapt many times during the months leading to the Winter School. Vana: "In the end, it all went quite smoothly, we prepared for this scenario and within two weeks we adapted to a more simplified version of the programme."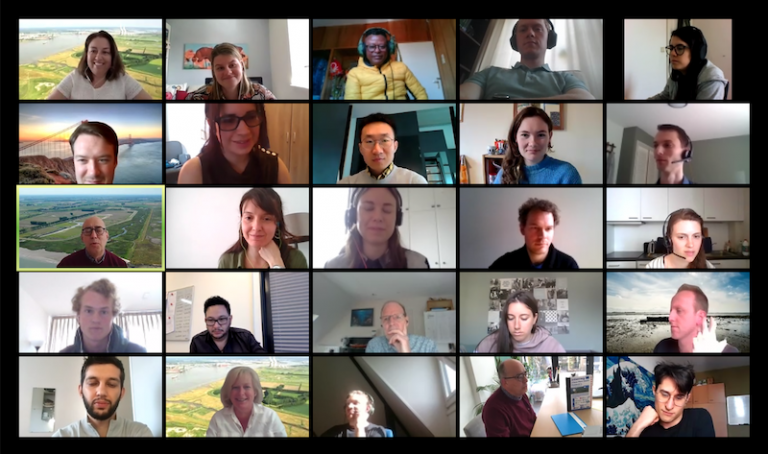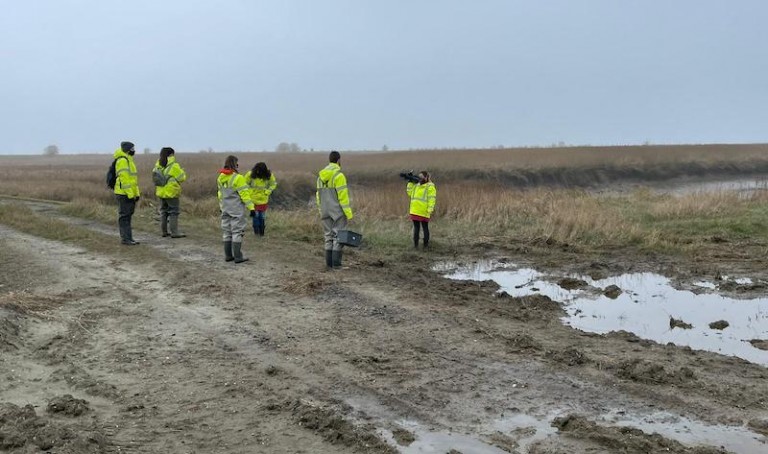 Different backgrounds
Vana saw the great advantage of the different backgrounds of the participating students. "We had 11 students from the Netherlands and four from abroad - Sweden, France, Belgium and the United Kingdom. I put international students together in a group assignment where they had to think of a levee monitoring framework that could work globally. They all worked with an example from their own area. It was very interesting to see how practices from different countries were integrated in this exercise. It really enhanced the end result." she says.
Field Trips
Two field trips to the Living Lab with limited numbers of participants could still be included in the programme in the first week of March, Decommissioning of Levee Emergency Repair Measures and Shear Vane and Penetrologger Measurements. "Although the online classes were of good quality, It was a great pity that we could not bring more students to the Hedwige-Prosperpolder as this would create a more stimulating atmosphere. For all students who visited the polder this was the absolute highlight of the programme. Hopefully, the students will get a new opportunity during the Polder2C's project and we can plan something in the near future and have some face to face interaction." says Vana.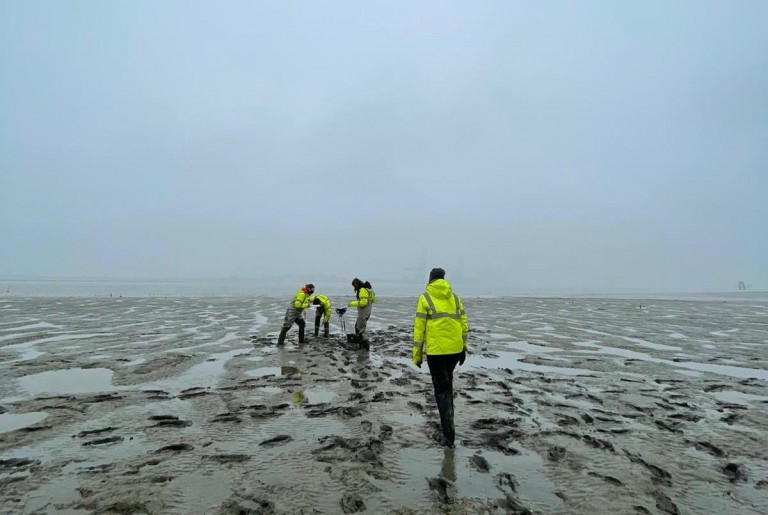 High quality results
During the Winter School, students worked in small groups on specific assignments related to expected outcomes of Polder2C's. Every group presented their final results to the Polder2C's partners and were awarded a Winter School Diploma. Vana: "I was impressed with the final presentations. They really contributed to our project's mission. I am looking for ways to include their results in the deliverables of Polder2C's, such as the update of the International Levee Handbook or the Toolboxes. I am really proud of the students' high-quality results."
"I was impressed with the final presentations. They really contributed to our project's mission."

Vana Tsimopoulou
Next edition
Even though this first edition has just finished, Vana is already thinking of the next edition. What will she change, apart from including field trips if this is possible again? Vana: "Nothing is decided yet, but I think the programme will be stronger if we find a way to go more in depth in some topics. The starting level of knowledge varied quite a lot among participants. We had Masters' students and PhD candidates taking part with different orientations in their studies. So, I think we can improve the level of the curriculum. I would like to offer some preliminary optional lectures as an introduction to those that need it, so that we can work more in depth in the field together. Other than that, I will not change so much. Overall, the students, coaches, lecturers and myself were positive and looking forward to a next edition with much offline contact."
More news
Curious what else we have been doing recently? See our news section for the latest news.