Successful first real day in the Polder
11 March 2020
Willemijn Bosma
Flood Defence
A group of levee experts from France, Belgium, United Kingdom and the Netherlands and students from Belgium and the Netherlands gathered on Wednesday.
A group of levee experts from France, Belgium, United Kingdom and the Netherlands and students from Belgium and the Netherlands gathered on Wednesday the 11th of March to perform an inspection on the levee in the Hedwige-Prosperpolder in Doel, Belgium. One of the aims of this inspection was to determine which experiments could be done best on which section of the levee and under which conditions. As the levee is now still in its original state this was the perfect moment for this inspection. In the years to come we can now measure the change caused by our experiments and the activities of the contractor.
David Trubshaw, Flood Coastal Risk Management (FCRM) directorate from the Environment Agency: "I came to the Hedwige-Prosperpolder with open eyes. I did not know a lot about the Polder2C's project beforehand. I was asked to assist with the baseline inspection on this site. It was interesting to see the inspection app with which the Dutch work and how it relates to ours. Working with a probe was new for me but is very handy as you can easily measure the width and depth of a damage. The excavation of the fox hole was inspiring to see. The coming years I will be closely following how the embankments perform under loads. We have a great opportunity here, there are not many places where you can take a whole embankment out. I am proud to represent the Environment Agency here."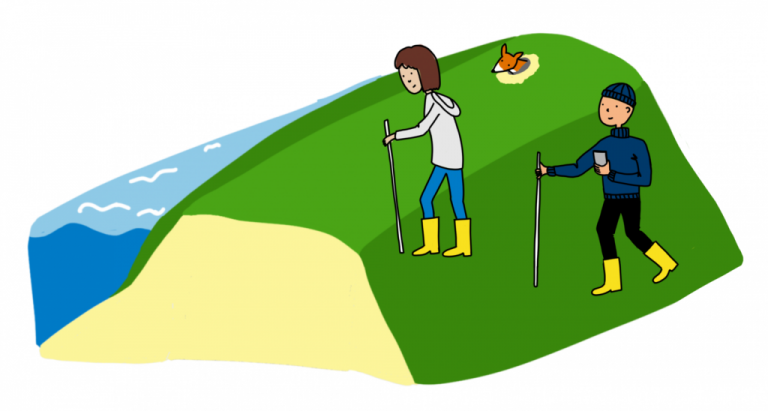 Similarities and differences
Wijnand Evers, levee expert at WDO Delta (a Dutch water authority): "I came here today to learn from levee experts from other countries. I was curious to see how they look at damages. What stands out is that we think the same about the seriousness of certain damages but that there is difference in how we record them. There are a lot of similarities on how we look at the levee. This living lab is a unique chance for us to see if our emergency measures work and which ones work best. I am really looking forward to all the experiments the coming years."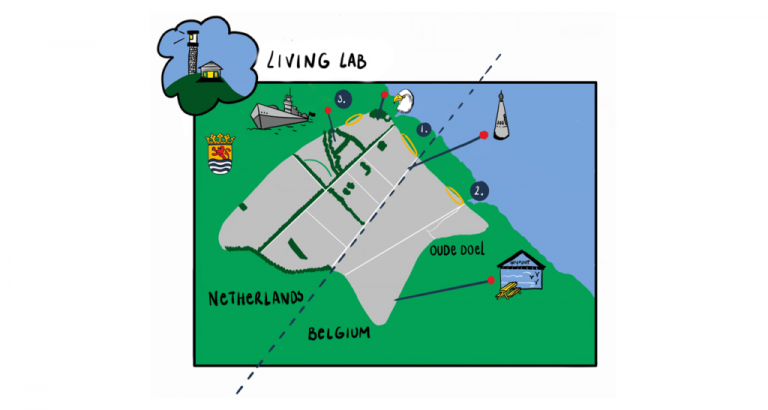 Theory and practice
Mark Klein Bretelaar, Deltares: "At Deltares I am mainly involved in the development of knowledge in the field of levee coverings. It is very important for us to see if theory and practice match. That is why it has been very useful for me to walk on this levee again with fellow experts. This baseline inspection was very useful and educational and helps us to keep our research well focused on practice."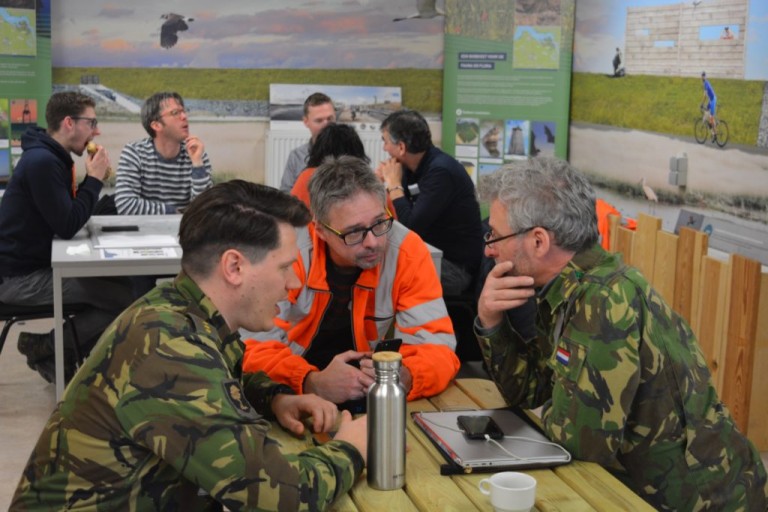 Passionate experts
Marian Booltink, STOWA and assistant WP leader Work Package Emergency Response: "I wanted to kindle the enthusiasm for this fantastic project of as many people as possible. And a way to do this is to let them experience this unique living lab and meanwhile letting them do a 0-measurement. I have seen experts exchanging knowledge, getting their hands dirty while excavating a fox hole and many connections being made between both organizations and countries. This was a very successful day and most promising for the years to come."
Coronavirus: The 11th of March was one of the last days that in Belgium and the Netherlands it was still allowed to have physical meetings. On the 18th of March stricter measures were taken in Belgium and in the Netherlands on the 21st of March.