Partner of the month interview: de Vlaamse Waterweg
18 January 2023
Francien Horrevorts
One of the strengths of Polder2C's is that it is an international project, where many parties work together, share expert skills and facilitate knowledge transfer. A total of fourteen partners from the Netherlands, Belgium, France and the United Kingdom participate in the project. Each month we put one of our partners in the spotlight. In January our partner of the month is De Vlaamse Waterweg from Belgium.
De Vlaamse Waterweg
De Vlaamse Waterweg manages and operates the waterways as a powerful network that contributes to the economy, prosperity and quality of life in Flanders, Belgium. They strengthen transport via inland shipping, ensure water management and increase the attractiveness of the waterways for recreation, tourism and nature experience. 
Patrick van Bockstal, Director River Management in the Central Flanders Region, represents De Vlaamse Waterweg for this interview.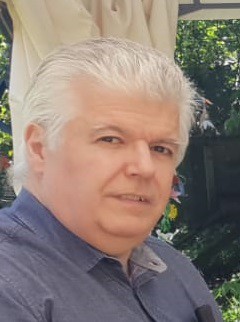 What is the core business of your organisation?
De Vlaamse Waterweg (DVW or Flemish Waterways) develop and maintain the navigable waterway-network and its assets in Flanders in order to stimulate transport over water and to improve the mobility in Flanders. We also try to manage our water systems in a sustainable, nature based and integrated way, in order to tackle challenges like uncontrolled flooding and drought. Climate change is a big issue for us to deal with. Finally, we facilitate and stimulate recreation and tourism on and along our waterways. In the division I work for (the central Flanders area), we more specifically develop and implement the Sigma-plan, which aims to prevent flooding by tidal storm surges in the Sea Scheldt and its tributaries by adapting the levees and creating controlled flood plains besides the development of tidal marshes.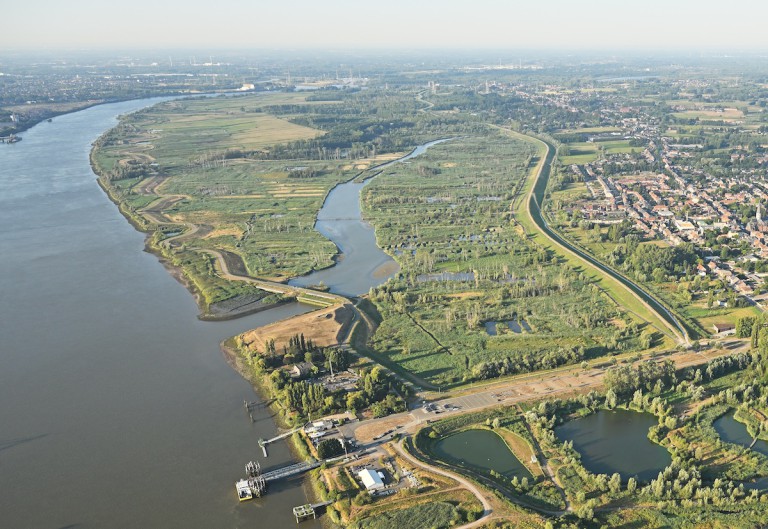 Photo: Bird view of Kruibeke Polders in Belgium

What is the role of your organisation in the Polder2C's project?
At the start of the Polder2C's Project, DVW was "only" an observer partner, although the Living Lab Hedwige-Prosperpolder was located in one of our biggest project areas of the Sigma-plan where we give a considerable part of polders back to the river Scheldt. Our contractors and our own employees carried out some practical work to support experiments that were performed in the field. We also participated in some activities like levee inspection and crisis management exercises, and we participated in one of the levee challenges. 
Because of our involvement as an observer partner, we proposed to become a full partner in the project, which eventually was approved. Personally, I became the contact for De Vlaamse Waterweg in the project. Unfortunately, time flies and it isn't easy to step into a project that has already been running for a couple of years and is now coming to its end. It would have been easier to participate from the start, with the needed employees and means, but it was very instructive anyway.
"Learning together and learning from each other is what we gained from Polder2C's."

Patrick van Bockstal
What have we gained from the Polder2C's project until now, do you think?
Learning together and learning from each other. Every participating partner has its own skills, habits and procedures in building and maintaining levees, creating controlled flood plains, setting up mobile flood barriers, repairing flood damage or animal burrows, levee inspection, flood crisis management and so on. Every country or region has its specific methods that can be inspiring for one another. In the Netherlands for instance, they have good experiences with training and involving volunteers in levee inspections. That is something we can only dream of at the moment in Flanders, but it is inspiring. 
What innovation or development are you eagerly waiting for?
The further development and implementation in Flanders of our application that is based on the Polder2C's app. Our inspection teams use it already as a registration tool during levee inspections, but it must be further developed and implemented for other assets like bridges, locks, sluices, quays and so on. And it is not only useful for inspection purposes, but it can also be deployed in other issues of asset management, e.g. for planning and controlling maintenance by contractors or employees.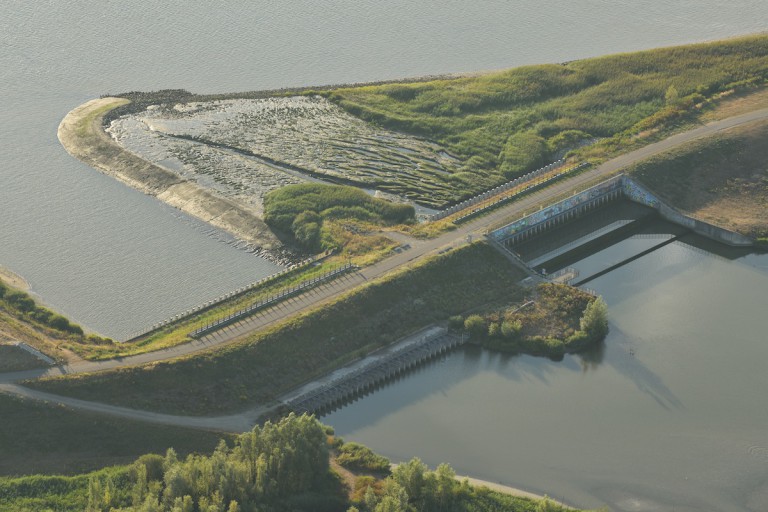 Photo: Sluice of Kruibeke Polders in Belgium
What is the best thing someone can do to contribute to climate adaptation?
As an organisation, we try to think decades ahead while adapting our river basins to the challenges that we will have to face. Our basins must be climate proof, not only according to heavier and more frequent storm surges, but also to heavier rains and to periods of drought. Combining all those goals is quite a challenge. The concepts of the controlled flood areas that we have built the last decades in the Sea Scheldt basin and that we still have to improve and build in the future are quite innovative, and we believe our experience can be useful in other catchment areas. Especially, the combination of water retention to cope with storm surges and developing swamps and marshes have proven to be a winner.
Why have you decided to be partner of the project?
As I stated before, it was a logical step to become a partner when we experienced that being an observer in our own playing field, while sharing the same core business as the partners that were already involved, wasn't really satisfying. Our participation and input may not have been as important as from other partners since the project was already ongoing for quite some time, but we hope that it was valuable anyway.