Animal burrowing and levee strength: what have we learned so far?
20 May 2022
Francien Horrevorts
Knowledge Infrastructure
In the field of levee management, animal burrowing is a relatively new research topic. Not a lot is known yet about the structure, size and number of animal burrows and their impact on levee strength. As the Polder2C's project could use two existing levees safely for all kinds of research questions, the project team seized this opportunity to include animal burrowing in the project.
Vana Tsimopoulou (HZ University of Applied Sciences), André Koelewijn (STOWA), Robert Lanzafame and Stephan Rikkert (both TU Delft), were among the researchers diving into this subject. What have they learned so far?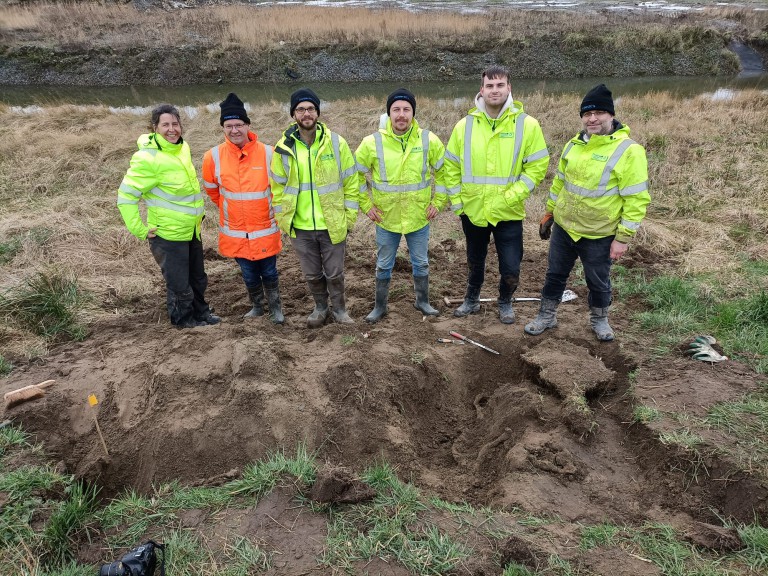 From left to right: Annette Kieftenburg, Andre Koelewijn, Robert Lanzafame, Stephan Rikkert, Johannes Idsinga and Ammar Aljer.
What are the main findings of your research into animal burrowing?
"We performed a variety of experiments and exercises in the Living Lab that led to a variety of findings. Our animal burrow surveys taught us how to recognise patterns of animal burrows, but they also helped us familiarise with geometries of burrow systems that we can expect in the subsoil. During the overflow and overtopping experiments, we witnessed serious erosion and dramatic failures in some of the levee sections that contained burrows. The detailed description of those failures can help in the determination of failure paths when burrows are present on a levee segment. Apart from that, we tested a few innovative ideas; we developed a technique that uses smoke to detect interconnectedness of neighboring burrows and we applied electric resistivity tomography for the first time during overflow experiments to monitor how the geometry of burrows changes."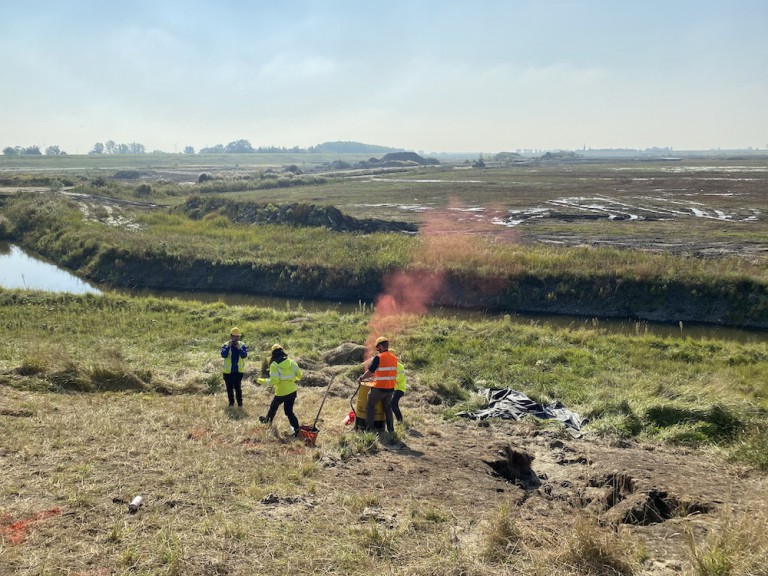 Detection of burrows using smoke
What was the most surprising result?
"That burrow systems of small rodents can extend very deep under the surface of the levee into its sand core. Although we thought before that mice burrows do not pose a threat to the structural integrity of a levee, we are not so sure anymore!"
What part of the experiments did you enjoy most and why?
"The animal burrows surveys! For the surveys we needed to be on the levee with many people, including students. This was always fun. The most special days were those that we had to excavate burrow systems that we had grouted with concrete before. These were the days that we witnessed how surprisingly extensive the underground mice and mole dens can be on a levee."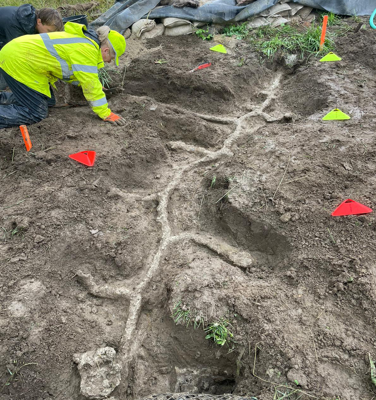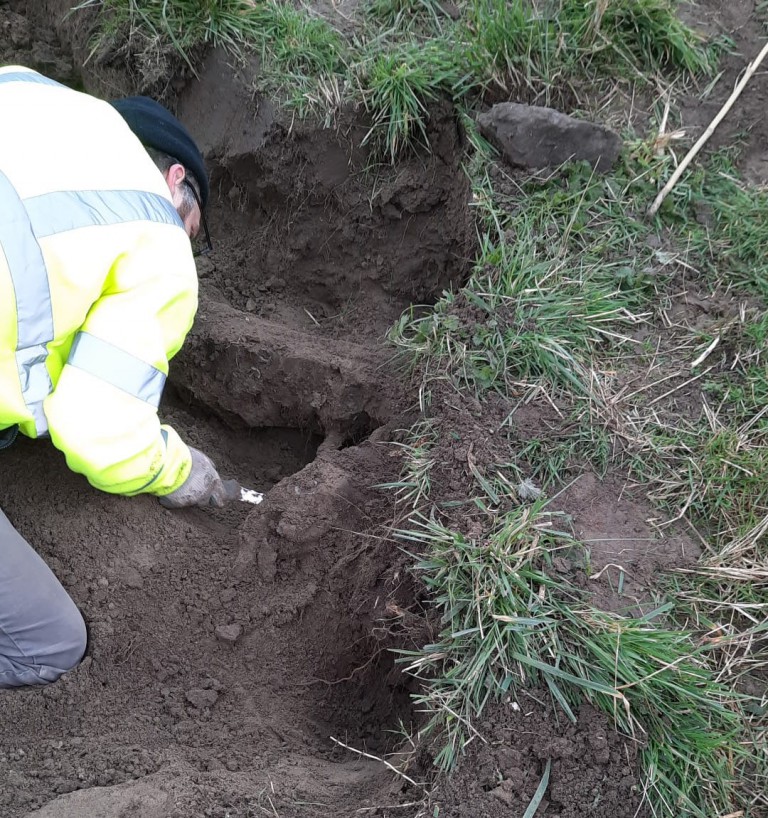 Excavation of concrete models of a mole burrow (left) and a mice burrow (right)
What else would you like to study concerning animal burrowing? 
"Within Polder2C's, we mostly collected insights and identified directions for future studies. We could not come up with firm conclusions that can be applied in any context, because our results have all been collected on one site and under very specific conditions.

There are four topics of interest that we would like to study further:
1)      Monitoring techniques for early detection of harmful animal-induced anomalies
2)      Failure paths and failure probability of levee segments damaged by animals
3)      Methods for repair of levee segments damaged by animals
4)      Eco-engineering approaches for the prevention of harmful animal activity on levees" 

See the 3D video of one of the grouted burrows that has been excavated in the Living Lab Hedwige-Prosperpolder.
Will the research be continued? What are your plans?
"Continuation is what we want. One of our general observations the past two years is that there is a lot of tacit knowledge on the topic of animal burrows among levee management authorities in the Netherlands, Belgium, UK and France, but it is fragmented and underreported. Now we have created a network of organisations and experts on the topic, so a logical next step is to start reporting the 'state-of-the-art' for the four research lines we identified and find ways to continue advancing our knowledge after Polder2C's is completed."