Live Q&A session Mobile Barriers
17 - 18 February 2022
Living Lab Hedwige-Prosperpolder
Online meetings
We bring the levee to the people! You are invited to join us for a LIVE Q&A session from the Living Lab Hedwige-Prosperpolder on Thursday 17 February 2022 at 11:00 o'clock CET.
During this Q&A we show you the testing of various types of mobile barriers. You will get the opportunity to ask questions. 
Types of mobile barriers
On 16 and 17 February four types of mobile barriers are tested: 
Goal of the tests is to gain experience in using mobile barriers. These tests will give insight into how effective, efficient and easy to use they are.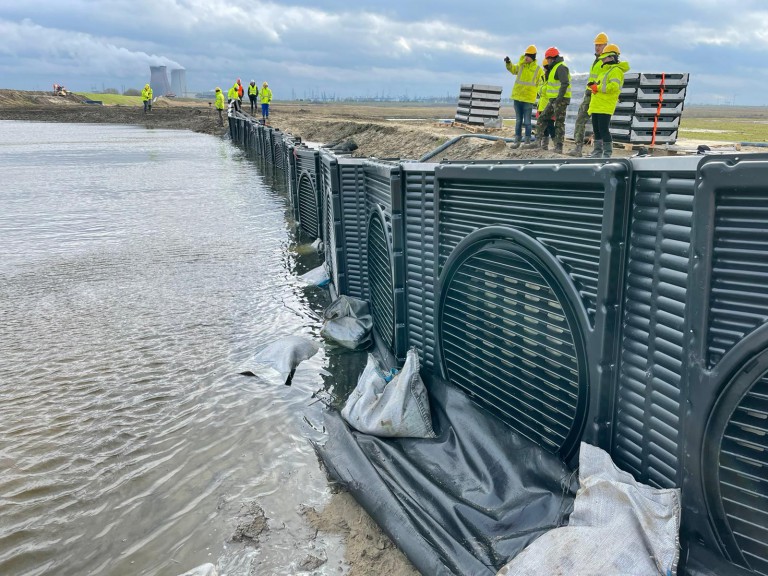 Photo: Testing Mobile Barrier of Cuirassier in Hedwige-prosperpolder
Join the Q&A session
Roelof Moll of Delft University of Technology, Civil Engineering and Geosciences, and Marc Balemans of the Ministry of Defence, Dutch Army Corps of Engineers, will show the first results of the test with the Boxbarrier and Noflood flex wall and you will see live how the system of Mobieledijken works.

Date and time
Thursday 17 February
11.00 CET
Save the date in your calendar and join our Q&A session via the link (Zoom).
Meeting ID: 830 9881 4639
Passcode: 372783